Kendall Kessler Art Collections
Shop for artwork from Kendall Kessler based on themed collections. Each image may be purchased as a canvas print, framed print, metal print, and more! Every purchase comes with a 30-day money-back guarantee.
About Kendall Kessler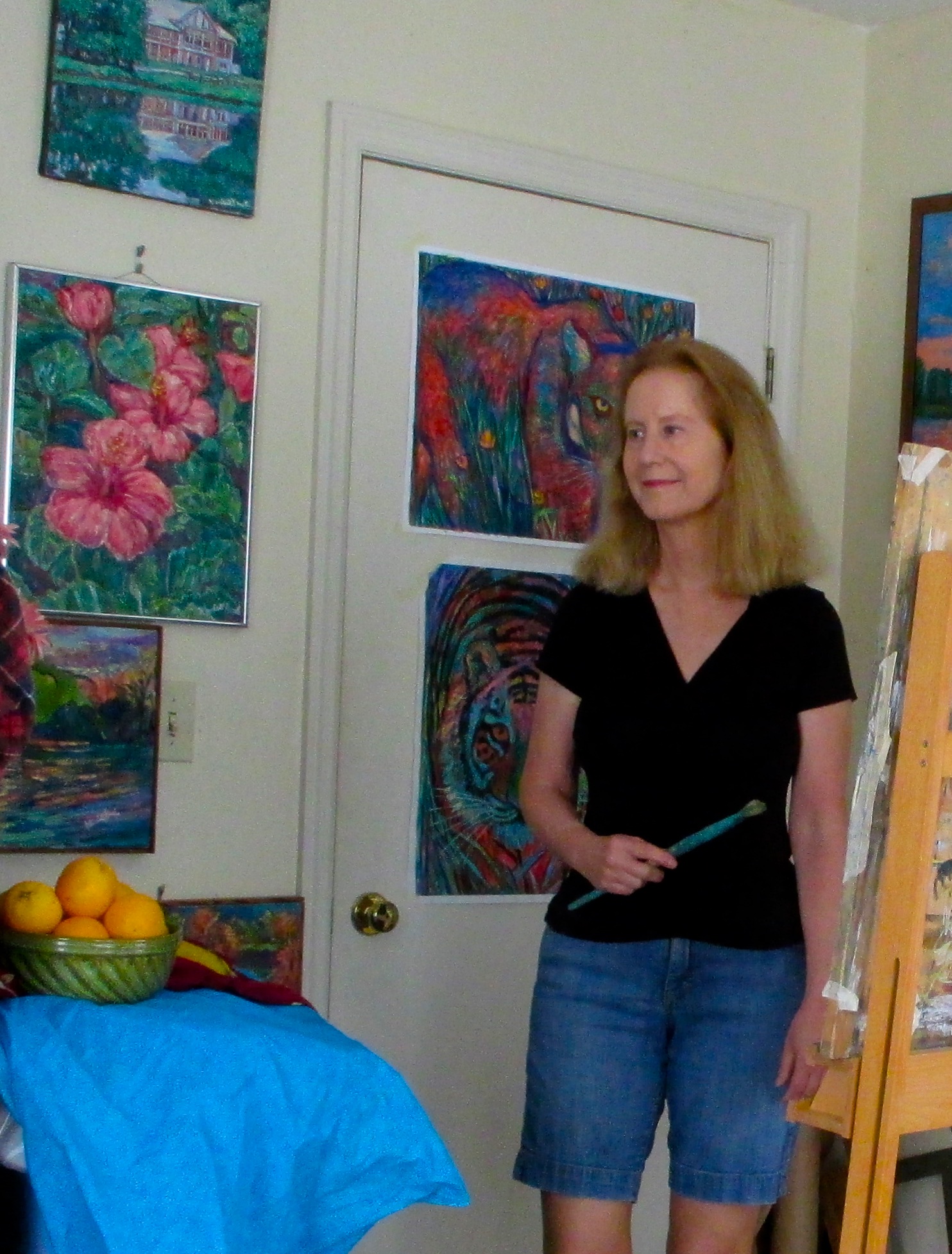 Kendall Kessler Art is the online portfolio of Award Winning Professional Artist Kendall F.Kessler and former Asst.Professor of Art at Radford University.


If you are interested in purchasing an original I ship the painting four days after I receive the check by UPS Ground service which takes 1-5 business days to arrive.
I have artwork in private collections in thirty-two states, six countries, and the collection of the award-winning, beautiful actress,Morgan Fairchild! Among her many starring rolls on television are Search for Tomorrow, Dallas, Flamingo Road, Paper Dolls, and Falcon Crest. I also have artwork in Washington D.C., Canada, Germany, Russia, Australia, Switzerland,and England.
My paintings were in two group shows on Broadway and my biography is in the original Marquis Who's Who in America and has been in Who's Who of American Women, and Who's Who in the World. I primarily create large impasto oil paintings, but I also work in pastels.

My art has been exhibited throughout the USA, and I have won local, national & international awards in both mediums, including awards from Dorothy Gillespie, May Stevens, Frank Webb, and Daniel Greene.



Check out my videos on YouTube! Just put my name in the search!

Be sure to look for my most popular drawing on The Mindy Project! My drawing reaching out was selected out of over three million works on art on Fine Art America to be on the set. It is located in Mindy's office across from her desk. The show ran for three years on Foxtv and three years on Hulu.

I appeared on FoxTV27 out of Roanoke on March 10th with "Reaching Out"on The Hour of Joy with Joy Sutton. It was a great show and I had fun talking with the next Oprah! I was on Episode 5 Stardom.
All artwork in this gallery is the original artwork of Kendall Kessler. All Rights Reserved. It is for sale, copyrighted to Kendall Kessler and, as such, is protected by US and International Copyright laws.

You can also view my work at towheehillstudio.etsy.com

Please read my blogs on this site.

TELEVISION

2012 The Mindy Project Reaching Out was chosen out of over three millions works of art on Fine Art America to be on the set. The print is in the main character's office. The show aired September 25th 2012.

2013 The Hour of Joy FOX TV appearance on Joy Sutton's dynamic talk show on March 10th, 2013

AWARDS

2019 4th Place New Logo for 500 Views Group for month of August 2...

2014 3rd Place, Win An Interview, Fine Art America, June

2013 1st Place, Most Prolific Contest, Juried competition, July

2012 Third Place, Cheerful and Positive Portraits of Famous People, November

2012 Third Place , "Babies" Contest , Fine Art America, January

2011 Tied for Second Place, Have a Heart, Fine Art America, February

2010 First Place Juried competition, Maximum Expression Through Minimum of Means, Genre Paintings, December

2010 Fourth Place(shared with two others) Juried competition, Maximum Expression Through Minimum of Means, Landscapes, November

2010 Third Place, Drawings with Still life, Fineartamerica.com contest online, October

2010 First Place Home, Sweet Home, Fineartamerica.com contest online, April

2010 Second Place Art, Fineartamerica.com contest, March online

2009 Honorable Mention, Art at the Market, Blacksburg, VA

2009 First Place, Art From the Heart, Fineartamerica.com contest

2009 First place, Love and Fighting, Fineartamerica.com contest

2009 Tied for First Place, Express to the Fullest, Fineartamerica.com contest

2009 Second Place, Oil Paintings, Any Style, Fineartamerica.com contest

2008 Painting, "New River Trestle" chosen for cover of Pulaski County Chamber of Commerce 2008-2009

2006 Honorable Mention, Art Along the Alley, Blacksburg, VA

2005 Purchase Award, "Expressions", Lynwood Artist's Annual Show, Piedmont Fine Arts Center, Martinsville, VA

2004 1st Place, Montomomery Museum Art Festival, Christiansburg, VA

2004 2nd Place, Blacksburg Sidewalk Show, Blacksburg, VA

2003 1st Place, Oils, Lynwood Artists Juried show, Martinsville, VA

2002 3rd Place, Over-all Blacksburg Sidewalk Show, Blacksburg, VA

2000 3rd Place, Blacksburg Sidewalk Show, Blacksburg, VA

1997 Best in Show, Fincastle Arts Festival, Fincastle, VA

1997 Merit Award, Lynwood Artists Annual Show, Martinsville, VA

1996 Merit Award, Lynwood Artists Annual Show, Martinsville, VA

1995 1st Place, Lynwood Artists Juried Show, Martinsville, VA

1994 Merit Award, Lynwood Artist Annual Show, Martinsville, VA

1991 Border to Border Drawing Competition, Clarksville, TN(slide is now a permanent part of Austin Peay Station University's collection)

1991 1st Place Oil Painting, Paris Art Fair, Paris, TX

1990 Judges Award, League of Roanoke Artists, "Showcase of the Arts"
Roanoke, VA

1990 Merit Award, Lynwood Artists Annual Show, Martinsville, VA

1990 Award, Lynchburg Annual Juried Art Show, Lynchburg Fine Arts Center, Lynchburg, VA

1990 American Artist Award, Pastel Society of the West Coast, Sacramento, CA Juror: Daniel Greene

1989 2nd Place Pastels, Hilltop Gallery Art Center, International Juried Show, Nogales, AZ

1985 Merit Award, Celebration'85 Salem, VA

1982 Purchase Award, Radford University Juried Student Show, Juror: Dorothy Gillespie, May Stevens


SHOWS

2012 A Naturalist's Legacy, Real Life Dental, Blacksburg, VA January

2010 This and That, Mill Mountain Coffee and Tea, Blacksburg, VA November

2010 Views from Towhee Hill One-Person show, Glencoe Museum, Radford, VA, April

2009 Blue Ridge Diversions, One-Person show, Blacksburg Public Library,October

2008 Art Tour 10 studio tour, Radford, VA, November

2008 Radford University Adjunct Show, October

2008 Evening Light, Brown Insurance Agency, One-Person show, Blacksburg, July

2008 "Expressions", Lynwood Artist's Annual Show, Piedmont Fine Arts Center, Martinsville, VA, July

2007 Art Tour 10 studio tour, Radford, VA, November

2007 "Fancy Gap and Other Scenes" The Gallery, Radford, VA January

2007 "Dreamscapes" Mill Mountain, Coffee & Tea, Blacksburg, VA December

2007 "A Single Moment" FNB Christiansburg, VA July

2007 "Art Tour Ten" Towhee Studio, Radford, VA June

2007 Two Artist Show, Blood Donor Center, Blacksburg, VA May

2007 "Fancy Gap and Other Scenes" The Gallery, Radford, VA January

2006 "Art Tour Ten" Premiere show, Towhee Studio, Radford,VA November

2006 "Art Along the Alley", Blacksburg, VA August 26

2006 "Summer View", Blacksburg Public Library, Blacksburg, VA July

2006 "Expressions", Martinsville, VA, June

2006 "Sidewalk Art Show", Roanoke, VA, June

2006 "Surface Beauty", NRVAC, Blacksburg, VA January

2005 "The Color of Light", Mish Mish Gallery, Blacksburg, VA,July

2005 "Expressions", Marinsville, VA July

2005 Sidewlk Art Show, Roanoke, VA, June,

2005 "The Mark of the Brush", Wallace Gallery, Blacksburg, VA

2005 Radford University Faculty Show, Flossie Martin Gallery, Radford VA

2004 "Pawleys Plus" VTLS Corporate Research Center, Blacksburg, VA

2004 "Mountains and More" See Mark Optical Blacksburg, VA

2004 "Color and Light" First National Exchange Bank of Christiansburg

2003 "Creative Beauty" Montgomery Regional Hospital Blacksburg, VA

2002 "Serendipity" First National Exchange Bank of Blacksburg

2001 "Natural Beauty", First National Bank of Christiansburg, Christiansburg, Va

2000 "The Color Pink", Montgomery Regional Hospital, Blacksburg, VA

1999 "Blue Ridge Colors", Corporate Research Center, Blacksburg, VA

1998 "Color and Light", Waste Policy Institute, Blacksburg, VA

1996 "Water and Flowers", Cranwell International Center, VPI & SU, Blacksburg, VA

1995 "Panoramas", Agora Gallery, New York, NY

1994 "Nature's Enchantment, Agora Gallery, New York NY

1994 "Exhibition 280", Huntington Museum of Art, Huntington, WV

1993 "Shades of Pastel 93", Johns Hopkins, Baltimore, MD

1993 North Vallery Art League 1993 National Juried Show, Redding, CA

1992 United Pastelists of America Holiday International Art Show, Upper Nyack, NY

1992 Paris Art Fair, Professional Division. Paris , TX

1990 Rappahannock Regional 1990, Focus on Realism. Fredericksburg, VA

1989 Chimerical Gregg Art Gallery Group Show. La Puentes, CA

1987 Tenth Annual North Dakota National juried Exhibition. Minot, ND

1986 Three Rivers Arts Festival. Pittsburg, PA

1986 Siesta Key Gallery's 2nd National Miniature Painting Exhibiton and Awards Show, Siesta Key, FL

1984 New Orleans Art Association's 10th National Art Exhibition, New Orleans, LA

1984 Springfield Art League's 65th National Fine Art Exhibition. Springfield, MA

1984 Phoenix Gallery's International Small Fine Art Exposition. Atlanta, GA


Press Coverage / Reviews:

At the Artist's Reception at Celebration'85 in Salem, VA,
well-known artist and author Frank Webb was extremely
enthusiastic about Kendall's work and made the remark that
there was not one square inch in her paintings that were not
the result of weaving of oil paint. Her painting, "Love
Garden, Coimbra University, Portugal, was awarded the John
Will Creasy Art Society award.

New Orleans Art Association's 10th National Exhibition. Art
Critic Roger Green had this to say regarding the selection
of the awards for the show: "Much more to this viewer's
liking were several entries that did not win prizes, for
example, "Stream" by Kendall F. Kessler of Blacksburg,
Va....Stream a small loosely executed oil, pictures
feather-looking grasses in orange, yellow, and green by the
edge of a stream."

TWO VIRGINIA ARTISTS, Stanley Gallery, Ferrum College,
Ferrum, Va. Art critic for the Roanoke Times, Ann Weinstein
wrote:"She paints with thick interwoven strokes of oil that
generate an independent surface activity. More than the sum
of its parts, the complexitiy of the paint itself provides
the imagery with an intrigue of texture, subtlety of color
and an unexpected intensity of feeling."

DUAL IMAGES at North Cross School in Roanoke. Again Ann
Weinstein reviewed the show and hailed it as " a very
effective teaching device. It provides insight into the
process of making choices that all artists are faced with,
not only in medium and size, but in the arrangement of the
basic formal elements of art."

LYNWOOD ARTISTS ANNUAL SHOW William G. White, Associate
Professor of Art at Hollins College and an established and
respected oil and water color artist, had this to say about
Kendall's award-winning entry into the Lynwood Artists
Annual show at the Piedmont artist Association in
Martinsville, Va."Great deal of complexity...quite exciting
visual image." Upon encountering Kendall's work again at
the 1997 Fincastle Arts Festival he bestowed the Best in
Show on Kendall's "Boat House, Mountain Lake.



ARTSPEAK Nov.Dec.'94 Will Grant wrote: "The American love of
nature is seen in Kendall Kessler's painting of foliage or
rich forest of deep greens, in soft pastel or oil.

Kendall's paintings were part of the group show, "Nature's
Enchantment" at Agora Gallery on Broadway


At the Lynwood Artists 1995 Annual Show, juror, Paul Ryan,
Assistant Professor Art at Mary Baldwin College had this to
say about "Rose in Bottle, Again" which won first place in
2-D. The directness of this pastel drawing interests me
very much - especially the strong use of line that is not
unlike the painter Leland Bell's sensitivity to line.

At the Montgomery Museum's Fine Art Festival, 2004,
well-known Roanoke artist Ann Glover likened Kendall's work
to that of famed 20th century colorist Pierre Bonnard. Upon
bestowing first place in oils on her work she made the
remark, "How could I not give you first place?"


At the first juried Show for CAW,"Whispering Muses",2010 the juror, well-known artist Vera Dickerson, was most enthusiastic in her assessment of "Poppy View" at the show review. "Poppy View" almost didn't make it to the show as the owner was unwilling to part with it for the show's duration. The patron let it go after Kendall lent her a painting to have in its place. The patron then bought two more.

Vera was most impressed with the vibrant red-green contrast in the work and the rhythm of the poppies in the field that takes up most of the canvas. She thought the ridge of trees and the small section of sky perfectly accented the field. She also spoke of how the placement of poppies was natural and not a matter of placing dots throughout the canvas.


Thank you for looking at Kendall Kessler Art