February 9th, 2021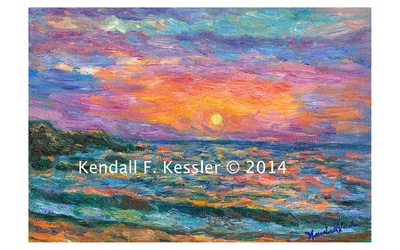 Blue Ridge Parkway Artist


Please Check out My Latest Youtube! My channel is Kendall Kessler

 
Not much to say except we are very excited about the house we may be moving into this summer!  Artist and writers need a lot of space that we don't have right now.  The house we are looking at will be perfect for us!  Now we need to get busy and fix up the one we have. 

Not looking forward to that but it has to be done.  I think my painting time is going to shrink even more than now. Ouch!  Oh well, I think I can get going with my latest one tomorrow.  First stage is done and now to get to the second, hopefully without cussing.  I never know. 

As you can see by my selections from my portfolio, I am really missing the shore so much!

Burning Shore  Original  Oil  painting SOLD
Wall Art Prints and Prints on household items including face masks
https://kendall-kessler.pixels.com/featured/burning-shore-kendall-kessler.html


Pawleys Pier  Original 14" x 11" Acrylic painting $313
https://kkesslerart.wixsite.com/website/blank-1/pawleys-pier


Be sure to check out my Independent website!  The link under Pawleys  Pier will take you there!
 


I would greatly appreciate a Google review if you like my work!  Here is the address.
https://goo.gl/rV7F9a


Life with The Word and Bird Man - Clyde Kessler

This one is from my last Youtube but I thought I would leave it up for anyone that did not see it. I love to laugh!

Clyde and I snack a lot, especially after supper.  Last night I couldn't decide what I wanted. 

I like to complain about these things to Clyde because he usually has a goofy answer for me and, as usual, he did not disappoint. 

I can't decide.  I have carrot cake, brownies, and cookies. 
Eat all of them.
All of them? You mean I should smash the brownie into the carrot cake and put a cookie on top?
Sure, but on top of that, add some raisins and call it a healthy snack. 
Yeah, right. I think my scale will disagree with you if I have that kind of healthy snack. 
I think I will get some popcorn - no butter.



Be sure to check out originals on Etsy! This address is to a popular Radford painting!
https://www.etsy.com/listing/91983759/park-road-art-40x30-impressionist?ref=shop_home_active_14&frs=1

Park Road  Original 40" x 30" oil painting $2480





Please check out Clyde's book.
The book can be purchased on Amazon!  Here is the address
https://www.amazon.com/s/ref=nb_sb_noss?url=search-alias%3Dstripbooks&field-keywords=Fiddling+at+Midnight%27s+Farmhouse 


If you like my work but don't have any more room on your walls be sure to check out my paintings on just about anything on my website or Zazzle! 
Here is the very popular Roanoke Sparkle on a plate!
https://www.zazzle.com/roanoke_sparkle_dinner_plate-115097038660255088




Thank you for looking at paintings by an artist of The Blue Ridge Parkway!